Bubinga Flooring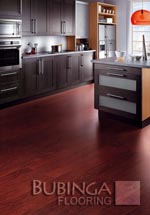 Bring the mystique of Africa's jungles into your home by installing bubinga flooring. The lavish red-brown coloring in this exotic hardwood will give your space a warm and unique feel while holding up better than other, more common flooring options.
A Janka Hardness rating of 1980 puts bubinga flooring in a class above many other wood flooring options, and will ensure you can enjoy your floor for many years. The column to your right gives detailed information about bubinga wood, but here are a few highlights:
Works easily with hand or power tools
Stains easily with an excellent finish
Dries easily with little degradation
Durable
It is our pleasure to serve your flooring needs. We offer both regular solid bubinga flooring and eco-friendly Staybull Flooring™. So please order your bubinga flooring today.